stop
Shef Kerbi is rated Dreem Lend's greatest chef for 43 years in a row as approved by Ainsley Harriot, Jon Favreau and Chef Boyardee. He is a culinary master and is the head of a 16 Michelin star restaurant in Monaco. You can literally buy a steak there for ~$250 000 ghost dollars. I went to Monaco once and they wouldn't let me in because both my parent's salaries combined weren't at least $500 000.
However, I told him that Shef Kerbi is my son and they let me in. While I was eating a $250 000 steak that my dad bought using his retirement money, Masahiro Sakurai walked into the room. He turned on his laser eyes and tries to kill me because Shef Kerbi was apparently a "bootleg of Kirby". Then I see Kirby come out and suck up one of the expert chefs and he gained the Chef copy ability. He started throwing everyone into his pot and boiling them. I sprinted into the bathroom and Kirby was coming out with a knife like this.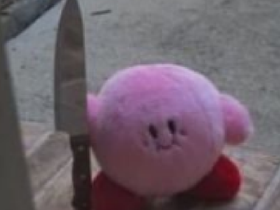 I said "Oh no" but then suddenly my friend made me eat Fire Emblem Three Houses on a Switch cartridge that he stole from a Nintendo representative that was with Sakurai. I then got a sword and then the battle turned into Fire Emblem style but I didn't know how to play Fire Emblem so I pretended I was playing Pokémon.
Kirby comes at you with a knife!!
*Shef Kerbi's dad selects MS Paint*
Kirby gets MS Paint'd
-142 health
Critical Hit!
Kirby was now just on 24 health out of 166. I yeeted a Pokéball at him and then threw the Pokéball out of the restaurant's balcony and into the Mediterranean Sea. I then took a plane back to the Mushroom Kingdom and sent Shef Kerbi back to Dreem Lend without thinking about where the Pokéball was floating.
Meanwhile in Cyprus
A dude is walking along the coast in Cyprus when he notices something buried in the sand. He sees a Pokéball and then decides to open it. Kirby comes out and sucks him. Apparently he was a secret agent from Israel and now the Israeli police are out for Kirby. They find Kirby and then arrest him and sent him into Israeli prison for 22 years. Sakurai is disappointed, and on the 3.0 update for Smash Bros Ultimate, Kirby is missing, never to be seen again. But at least we got Joker from Persona 5.
The End
Edit: Thanks DownsGameClub oof. Also this is canon to the CatsUnited lore.
Last edited by CatsUnited (2019-Apr-16  13:32:55)